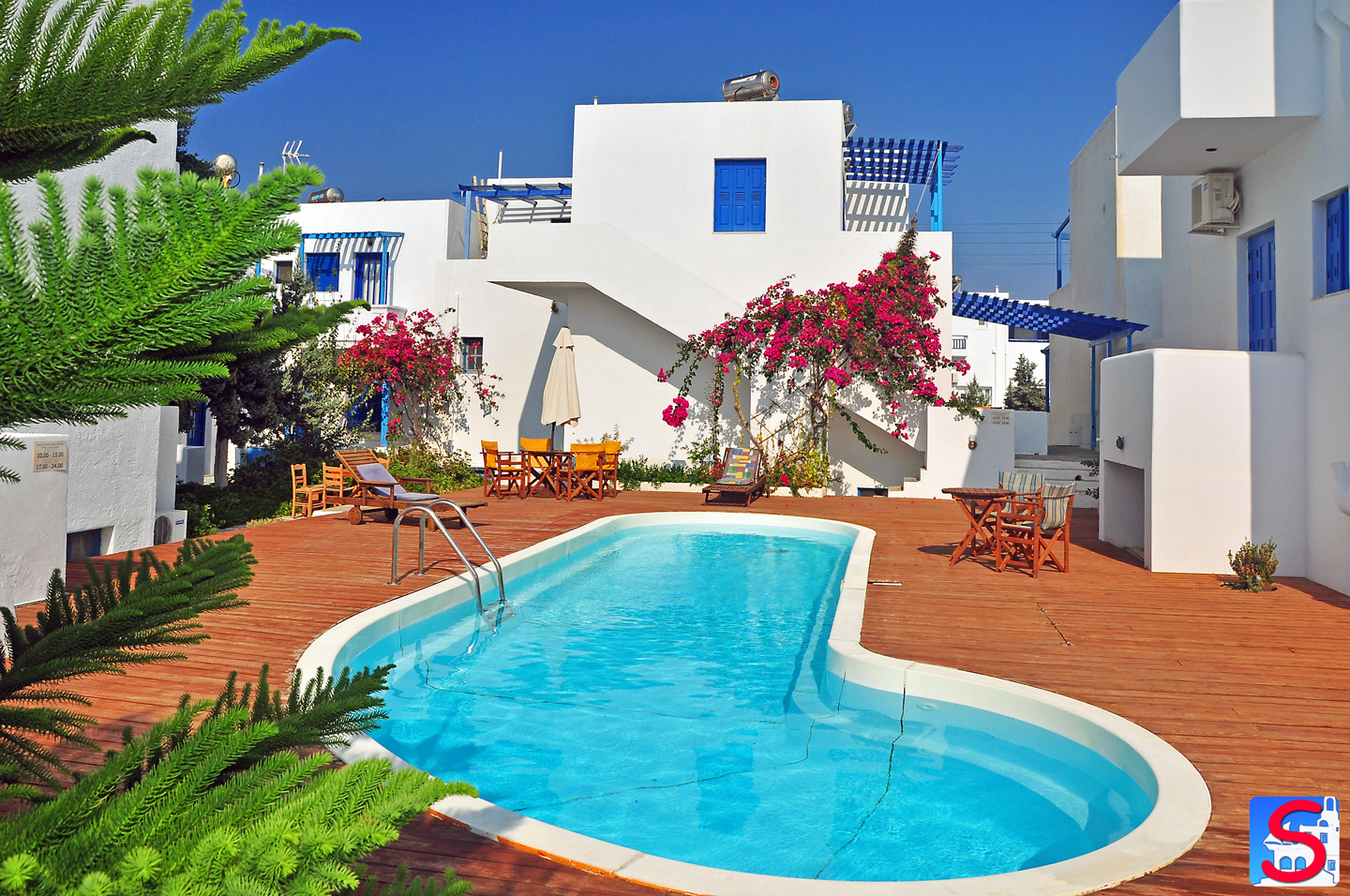 Soultana's Rooms and Apartments
Soultana's Apartments, Rooms and Studios in Pollonia, Milos, is a meticulously appointed property located on the Pelekouda peninsula, in Pollonia, Milos, about a hundred yards from the water.
Soultana's Rooms and Apartments are within comfortable walking distance from the main beach of Pollonia, the kids' playground, the mini-market and the seaside tavernas, and a stone's throw from Pelekouda beach.
Soultana's Rooms and Apartments - Accommodation
At Soultana's there are double and triple rooms and studios as well as some of the most beautiful and spacious apartments in Pollonia and all of Milos. However, there are only two such apartments at Soultana's, and they go fast, so early booking is encouraged. Each apartment at Soultana's includes 2 bedrooms, a large living-room, a very spacious kitchen with a dining area, and a W.C. in addition to the main bathroom.
Soultana's Rooms and Apartments - Amenities
All units are air-conditioned, and maid service is provided two to three times a week. There is also free guest parking across from the complex, and as of 2009, underground covered parking as well as a swimming-pool are also available.
Soultana's Rooms and Apartments - Breakfast
Breakfast is not included at Soultana's. For those who require it, breakfast is available across the street at a seaside establishment next door, offered between the hours of 8:00AM - 10:30AM.
Soultana's Rooms and Apartments- Rates
Rates are competitive, normally at €30 - €140 depending on unit type, season and length of stay. Reservations can be made easily either via IBAN bank deposit or by credit card.
About Soultana's Rooms and Apartments
Mrs. Soultana is a delightful and conscientious lady with an industrious work ethic and a big heart. She also raises chickens, and it is not uncommon for her to bring fresh eggs to families with small children, 2-3 times a week, for free.